Leading B2B Publication Releases Annual List of the Supply Chain's Top Professionals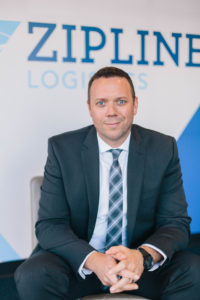 Columbus, Ohio — Andrew Lynch, Co-Founder and President of the national third-party logistics provider (3PL) Zipline Logistics, is being recognized in Supply & Demand Chain Executive's 16th annual listing of the 2017 Pros to Know in the Supply Chain Industry for his ability to pioneer scalable transportation solutions for a specialized client base within the consumer product sector.
More than 300 entries were received for the 2017 Pros to Know award program. Lynch stood out from the competition because of his leadership and ability to successfully leverage data analytics to improve customer operations. Launching a business intelligence tool in 2016, called KANOPI, Lynch proactively helps clients analyze transportation data, uncovering opportunities for profound savings and new efficiencies.
"I feel so fortunate to have my name on this award," says Lynch, "Yet, the honor is shared with my greater Zipline Logistics Family. I am thankful every day that I get to collaborate with such outstanding, passionate, professional, and creative problem solvers."
The Pros to Know Awards recognize supply chain executives, and manufacturing and nonmanufacturing enterprises, that are leading initiatives to help prepare their companies' supply chains for the significant challenges of today's business climate. This year's list includes individuals from software firms and service providers, consultancies or academia, who helped their supply chain clients or the supply chain community at large prepare to meet these challenges—and Practitioner Pros, who do the same within their own companies.
"Supply & Demand Chain Executive congratulates the 2017 Supply & Demand Chain Executive Pros to Know recipients. The Pros to Know is a listing of exceptional corporate executives at manufacturing and non-manufacturing enterprises who are leading initiatives to help prepare their companies' supply chains for the significant challenges in the year ahead," says Ronnie Garrett, editor of Supply & Demand Chain Executive. "We commend recipients for their achievements. Their accomplishments offer a roadmap for other leaders looking to leverage the supply chain for competitive advantage. Their efforts in developing the tools, processes and a knowledge base for supply chain transformation, as well as in promoting new approaches to supply chain enablement, earned these individuals a rightful place in this year's Pros to Know listing."
Check out Supply & Demand Chain Executive's website at www.sdcexec.com for the full list of all of the 2017 Pros to Know and Practitioner Pros winners.
About Supply & Demand Chain Executive
Supply & Demand Chain Executive is the executive's user manual for successful supply and demand chain transformation, utilizing hard-hitting analysis, viewpoints and unbiased case studies to steer executives and supply management professionals through the complicated, yet critical, world of supply and demand chain enablement to gain competitive advantage.
Visit them on the web at www.SDCExec.com
About Zipline Logistics
Zipline Logistics is North America's first multimodal transportation provider to specialize exclusively in serving the retail and consumer products sectors. Founded in 2007, the company is renowned nationwide among retailers, distributors, and manufacturers for providing results-driven partnerships, unparalleled service, and cutting-edge data intelligence.
For more information, go to www.ziplinelogistics.com or call 888.469.4754.
Media Contacts
Ronnie Garrett
(800) 538-5544 ext.1264
[email protected]
Bethany Cramer
888-469-4754
[email protected]