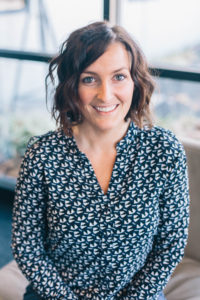 Columbus, Ohio— Food Logistics, the only publication exclusively dedicated to covering the movement of product through the global food supply chain, has named Katie Curry, Senior Operations Executive and Hiring Manager at Zipline Logistics, to its 2017 Food Logistics' Champions: Rock Stars of the Supply Chain List.
The Rock Stars of the Supply Chain Award recognizes influential individuals in the food logistics industry whose achievements, hard work, and vision have shaped and attained milestones in safety, efficiency, productivity and innovation through the global supply chain. From early pioneers and entrepreneurs to non-conformist thinkers and executive standouts, this award aims to honor these leaders and their contributions to the industry.
Curry's ability to generate unique solutions for complex transportation issues earned her a spot on this impressive list. In 2016 she instituted new standard operating procedures at Zipline Logistics for order consolidation and food/beverage handling requirements. These contributions enabled her clients to see dramatic efficiency and performance improvement and parallel cost reductions.
"I've been lucky enough to work alongside some amazingly talented individuals who have supported me through major roadblocks, and even better, major successes," says Curry about her award. "To be recognized for this honor as a Rock Star of the Supply Chain is incredibly meaningful. My team has been my biggest resource every step of the way. All the hard work they do has allowed me to implement impactful process changes while continuously expanding the business."
"The diversity of this year's award winners reflects the growing complexity of the global food supply chain and the many people whose individual and collective successes are driving the industry to new heights," notes Lara L. Sowinski, editorial director at Food Logistics.
Recipients of this year's 2017 Food Logistics' Champions: Rock Stars of the Supply Chain award will be profiled in the March 2017 issue of Food Logistics, as well as online at www.foodlogistics.com.
About Food Logistics
Food Logistics is published by AC Business Media, a business-to-business media company that provides targeted content and comprehensive, integrated advertising and promotion opportunities for some of the world's most recognized B2B brands. Its diverse portfolio serves the construction, logistics, supply chain and other industries with print, digital and custom products, events and social media.
About Zipline Logistics
Zipline Logistics is North America's first multimodal transportation provider to specialize exclusively in serving the retail and consumer products sectors. Founded in 2007, the company is renowned nationwide among retailers, distributors, and manufacturers for providing results-driven partnerships, unparalleled service, and cutting-edge data intelligence.
For more information, go to www.ziplinelogistics.com or call 888.469.4754.
Media Contact
Bethany Cramer
888-469-4754
[email protected]