A freight audit is the process of examining, adjusting and verifying freight bills for accuracy.
While auditing your invoices for accessorial charges and supplier penalties is just a portion of the entire auditing process, it is an important step to take when looking to lower your transportation spend.
There are often repeat offenses that you can easily fix but may be unaware of. If left unevaluated, reoccurring accessorial charges can pile up and cost shippers thousands of dollars.
Luckily these types of charges are often avoidable or at least negotiable. Looking for trends and anomalies in transportation data can help identify savings opportunities.
Case Study: Audit Freight Billing for Supplier Penalties and Accessorial Charges
Auditing vendor chargebacks and accessorial fees is easy to do with Zipline's KanoPI shipper intelligence platform. Our platform helps to make this process hassle-free and comprehensive.
One of our customers recently used KanoPI to conduct an in-depth audit to uncover their costliest receivers. They leveraged KanoPI's "deep dive" feature to break down accessorial charges. They were able to see exactly what they were incurring fees for, how many times issues were happening, and what the true cost impacts were.
Looking at shipment data and accounting paperwork in KanoPI, they identified an excess of lumper services and long detention times. Surprisingly, the most occurrences of detention were at their own facilities and not at receivers. They were unaware that their own behaviors were drastically impacting freight spend.
They worked with Zipline to make improvements to their production and shipping schedules to even out shipment volumes and decrease dock congestion. A year later, when comparing time ranges in KanoPI, they could see that by decreasing detention and addressing lumper fees, they effectively cut accessorial costs by 60%.
Looking at Chargebacks Per Receiver/Shipper
KanoPI users are also able to filter their transportation data by consignee/receiver. This helps identify which buyers are causing the most difficulties and which accessorial fees are most common at a particular receiver/shipper location.
When the same Zipline customer filtered for Walmart consignees they were able to identify avoidable accessorial fees. The transportation team is now armed with the data they needed to push for improvement initiatives and can work with production teams to avoid costly holiday deliveries and Sunday pickups.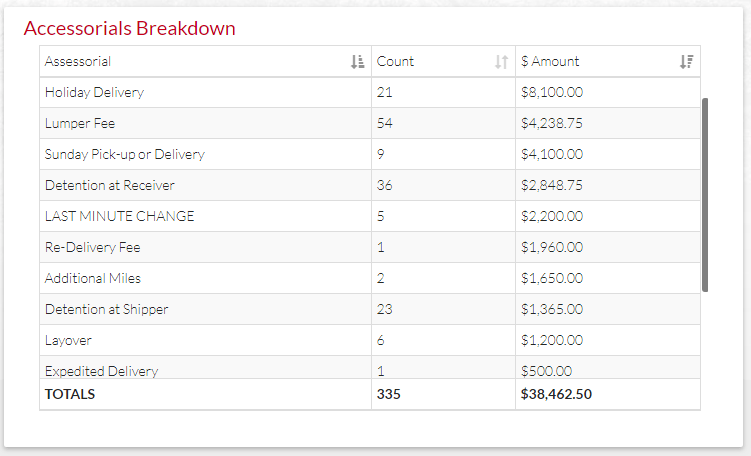 Accounting for Vendor Chargebacks
As retailers continue to make vendor compliance criteria more stringent and increase the financial penalties for nonconformance, it only becomes more important to diligently audit charges and evaluate behaviors.
Interested in seeing a demo of KanoPI or in identifying ways to reduce added transportation fees?
—
You May Also Be Interested In Reading
Preventing and Disputing Retail Vendor Chargebacks
Retail Compliance: Solving for Walmart Vendor Guidelines
Top Reasons for Retail Vendor Chargebacks
Walmart's On-Time, In-Full (OTIF) Program: What You Need to Know