A new decade is upon us and if it is anything like the last, we can be sure that new food and beverage trends will emerge as consumer preferences continue to evolve.
Right now, we are seeing a few emerging beverage trends and food trends in 2020 coming down the pike.
Millennials have brought about quite a bit of upheaval to traditional markets. The food and beverage industry was certainly among those to see disruption, especially during the latter half of the previous decade.
As we head into 2020, it is now Gen Z who is poised to be the largest consumer group in the globe accounting for "$29 to $143 billion" in direct spending, according to an article in Forbes.
They, like their predecessors, demand a different type of food and drink. And as tastes and spending habits change, so, too, do the products brought to market.
Let's take a look at upcoming food and beverage trends and how they will impact transportation in the year ahead.
Plant-Based Protein More in Demand
Plant-based protein will continue to be a popular choice for consumers in 2020. Many eco-friendly eaters have moved past traditional meat products to plant-based protein alternatives, the most notorious product being Beyond Meat.
In 2019, Beyond Meat went public with one of the most impressive IPOs since the .com bubble.  Since then, the company's stock has maintained much of its initial momentum.
Currently, it is up 40 percent from its initial public offering as the company is in talks with major fast food chains to begin using the product in their stores.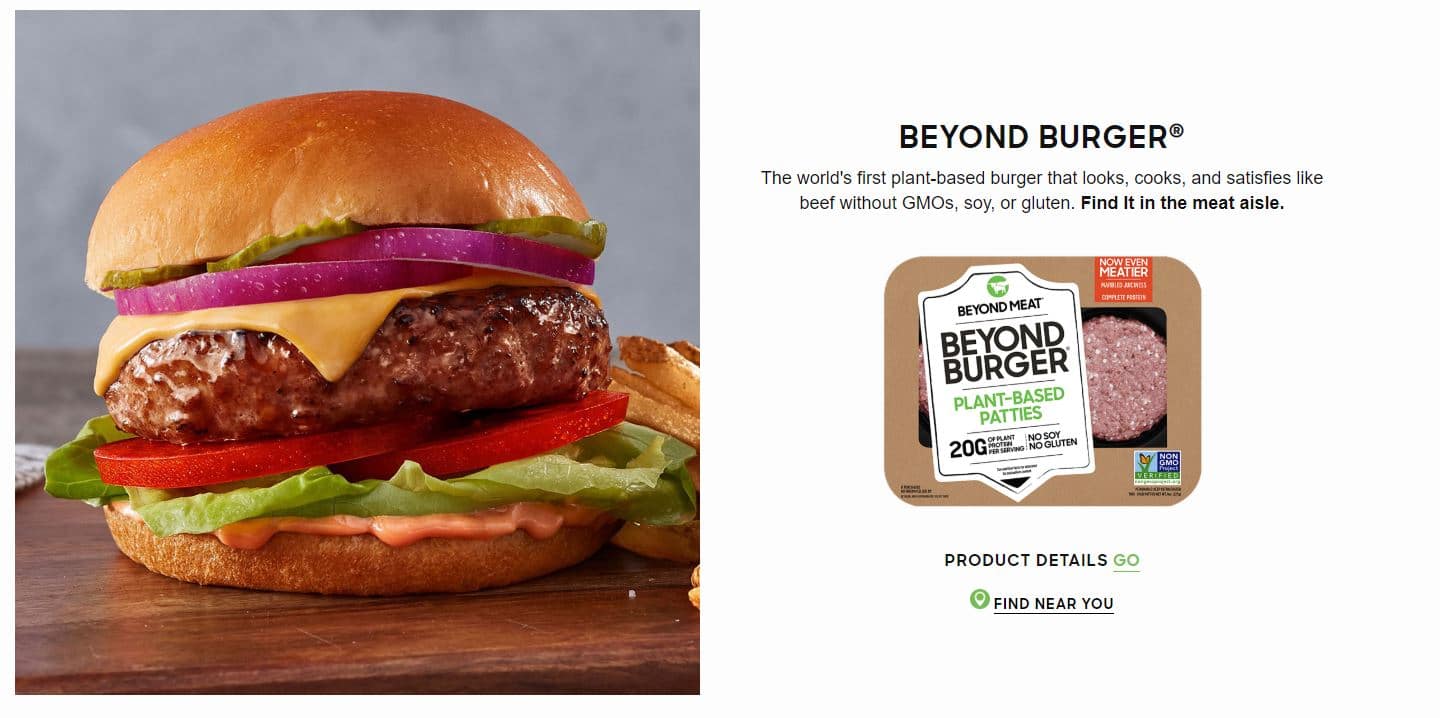 Source: https://www.beyondmeat.com/products/
Burger King has already made a splash in the industry by incorporating meatless alternatives like the Impossible Whopper. The meatless patty is made by Impossible Foods.
When mega-corporations begin offering plant-based alternatives on their menus, it is safe to say this trend will continue for the foreseeable future.
Plant based proteins are also highly prevalent in large grocery stores. Brands like Upton's Naturals, Morning Star and Good Catch have established themselves as permanent meat-substitute fixtures on the store shelf.
Just like their traditional animal protein competitors, these products require refrigerated and frozen transport to get into purveyors' supply chains. All except Good Catch's shelf-stable tuna alternative.
We anticipate that shipping temperature controlled, particularly frozen, is a transportation mode that will continue to grow in demand in 2020.
Plant-Based Snacks Expand in Popularity
Beyond just an occasional vegetarian substitute for an animal product in their burger, some consumers have begun following a mostly plant-based diet.
This way of eating typically includes large amounts of vegetables, grains, nuts, seeds, legumes, and fruits.
Consumers around the country are incorporating more of the diet's staples into their lives, even those not committed to being plant-based full-time. The term "flexitarian" has risen in popularity.
It is estimated 83 percent of adult Americans are making a concerted effort to add more plant-based foods to their diet according to a report from food consultants Baum and Whiteman.
But a change in diet obviously does not equate to a change in schedule or demands as plant-based eaters still have the same needs for convenience that their meat-eating peers do.
To meet the demands of the modern consumer, brands have begun offering plant-based snacks to give eaters an option to stay on track between meals.
Plant-based products are entering the market at record speed. Brands like IWon Organics, Beanfields, PeaTos, Harvest Snaps, and Plant Snacks provide consumers with protein-packed plant-based snacking alternatives.
The health benefits of consuming snacks made form peas, beans, lentils, and seeds are also drawing attention. Consumers of all kinds are attracted to the new snack category, not just vegetarians. Seeking alternatives to "junk foods" like cheese puffs and oily chips, they are flocking to these fell-good replacements.
Non-Alcoholic Beverage Trends Gaining Momentum
Younger generations are drinking fewer alcoholic beverages. So much so that global beer sales have been down for five consecutive years according to the Beverage Information Group.
According to a 2018 report from Berenberg Research, "respondents in their teens and early 20s were drinking over 20% less per capita than millennials, who drank less than Baby Boomers and Gen Xers."
Instead, today's consumer is reaching for non-alcoholic alternatives like Hop Tea, a sparkling tea beverage infused with hops to give it a craft beer like flavor without any of the effects of an alcoholic beverage.
In addition to infused drinks, consumers are choosing alcohol free "mocktails" made with beverages from brands like  Fever Tree  and premixed versions like those offered by The Bitter Housewife.
Alcohol sales will likely continue to decline year-over-year in 2020, and alcohol-free beverage consumption will fill the need.
Most of these products can be hauled in dry full-truckload or LTL trailers. Their surge in popularity may not impact the logistics industry much, but consumers should expect to see a boom of more mock-tail options on store shelves.
Functional Drink Demand on the Rise
Consumers expect more than just caffeine or electrolytes these days as the functional beverage has increasingly expanded to include everything from kombucha to vitamin-enriched drinks.
According to an article published in CSP, "Consumers are increasingly taking a hands-on approach to their own nutrition using their food as medicine and expecting beverages to deliver functional benefits in addition to refreshment."
This reality has curbed soft drink sales and given rise to new products like Olipop, a probiotic soda that aids digestion and only contains three grams of sugar vs. the typical 40 grams found in traditional pops.
Other beverages aim to increase mental performance for drinkers to keep pace in today's fast reality. Companies like Kitu Coffee offer their customers Super Coffee — a caffeinated coffee drink that comes packed with protein and MCT oil, a medium chain fatty acid linked to physical and mental performance.
Most of these beverages require refrigerated transportation. With more brands entering the functional market, look for more refrigerated shipping capacity to be occupied by vendors in this space.
Adaptogens Making Their Way into Beverage Trends
Another similar, yet different aspect of functional food and drink is the adaptogen trend.
Adaptogens are typically defined as a naturally occurring substance that helps the body handle stress and adjust biological processes.
They include a wide berth of substances from herbs like Holy Basil to L-Theanine, each designed to help you relax or perform at your best.
Caffeinated drinks like Bang Energy come packed with a proprietary blend designed to stimulate drinkers. The key ingredient is their super creatine blend that gives users a physical and mental boost. Creatine has been linked to an increase in energy output and mental performance.
Another stimulating beverage designed to an increase in mental and physical performance is Yerba Mate. Brands like Yerbaè have incorporated the dried plant into their beverage to offer a sparkling water that is hydrating and caffeinated for an extra kick.
Adaptogens are not only used to find a bit of extra pep. They can also be used to calm the mind and body, readying the consumer for sleep.
Brands like SOM have combined relaxing ingredients GABA, L-Theanine, and Melatonin to create a calming beverage designed to help consumers fall and stay asleep.
Depending on ingredients, these products can both ship dry and temp controlled. Seasonal demand for beverages, like energy drinks, does increase as the weather warms, but overall, we expect little impact on transportation.
Dairy-Free Continues to Win
Dairy-free alternatives have gained substantial traction over the past few years and their place in grocery store refrigerators will continue to increase in 2020.
Plant and nut milks have become a staple of the American diet and a popular add-in for coffee and tea drinks. Brands like Oatly, with their line of flavored Oat Milk, have become popular enough to partner with the massive coffee chain, Starbucks.

Source: https://us.oatly.com/
Look for other vendors like Califia Farms, Ripple, and Forager  to continue to expand their beverage offerings as consumers increasingly choose non-dairy alternatives over traditional products.
For yogurts alternatives, brands like Laava and Good Plants are combining the benefits of probiotics and prebiotics into plant-based options.
Most non-dairy alternatives require refrigerated freight, but some almond, flax, coconut, and hemp milks are shelf stable. Having easy access to both modes can prove beneficial.
CBD—Now a Food and Beverage Trend
CBD has been soaring in mainstream popularity over the past few years and is now available to consumers at large retailers like Kroger.
The product has gained so much notoriety and widespread acclaim that it has started to be added to food and beverage products available to consumers throughout the US.
Vendors like Joy Tea have combined the benefits of CBD with the antioxidant containing benefits of tea. Ubu has combined aspects of other trends into an all-encompassing wellness drink. With full-spectrum CBD, prebiotics, and the adaptogen Boabab, Ubu is body-balancing beverage.
CBD is not just in beverages either. Sunday Scaries, a popular CBD brand, creates a unique Unicorn Jerky, a rainbow-colored candy packed with 10 mg of full-spectrum hemp extract.
While CBD has surged in prevalence in consumer products, transporting it remains a grey area. We're constantly asked, can you ship CBD?
The answer is — it depends. CBD is federally legal following passage of the Farm Bill but it can be regulated by state and local governments. We have seen trailers seized, even following the legislation, leaving much of the logistics industry confused and varied in their stance on shipping CBD.
Some carriers are willing to take the risk to transport the product, but you'll need to build a network nationwide. For now, Zipline plans to keep a close watch on regulations surrounding the ingredient and will continue to help our customers navigate its complex shipping reality.
Fresh Snacks—A Popular Food Trend in 2020
There is a growing focus on fresh food trends in 2020 as consumer health consciousness grows. To accommodate wellness-centered shoppers, brands have begun offering fresh snacking options that are every bit as convenient as their predecessors.
Fresh food bars like Core Bar, made from overnight oats, probiotics, and prebiotics, have clean ingredients that consumers are searching for. Similarly, Perfect Bar is made from whole ingredients and contains a substantial serving of protein while maintaining fresh expectations.
Even though many fresh food products are focused on convenience, they must also maintain quality. Currently, both Perfect and Core Bar require refrigerated transport to retain their standards, as do similar products.
This, like many other food and beverage trends in 2020, will require temperature-controlled transportation. With more demand for refrigerated shipping services, we hope to see more providers enter the market or existing fleets to invest in more reefer equipment.
Dehydrated Foods Are a Convenient Way to Stay on Track
With diets focusing on nutritional value, dehydrated foods offer eaters an easy way to hit their goals without sacrificing much needed convenience. Dehydrated foods offer a highly portable version of fruits and vegetables.
Popular brands such as Peeled Snacks, Dirt Kitchen, Bare Snacks, Rhythm Superfoods, and Rind Snacks all offer a plethora of dried wholefoods that can give eaters a healthy option in-between means.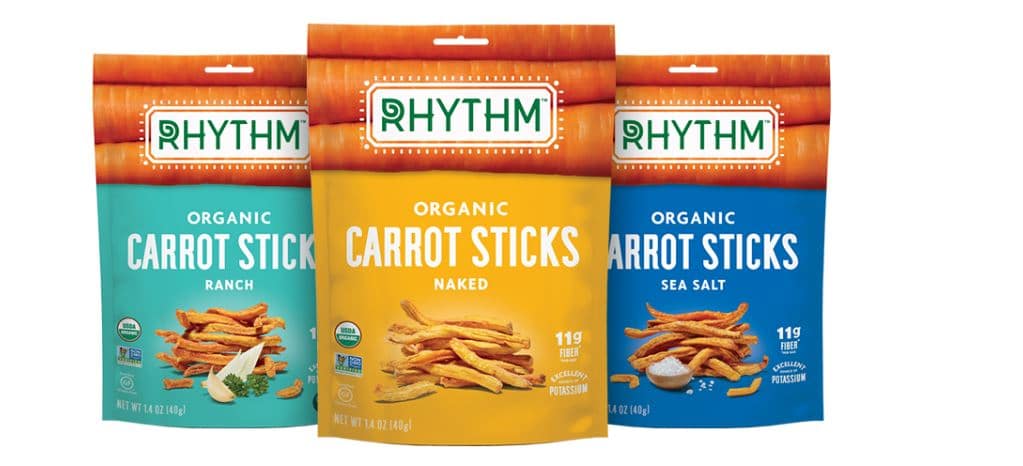 Source: https://rhythmsuperfoods.com/our-snacks/
Luckily, this trend will not have much of an impact of capacity or rates for most shippers.
They can ship dry full-truckload or less-than-truckload and will not substantially affect capacity or available rates.
How to Stay Ahead of Food and Beverage Trends' Impact on Logistics
Consumer trends can have an impact on transportation supply and demand, which can affect your logistics spend directly.
As noted, refrigerated shipping solutions may be more in demand in the coming year unless new sourcing options become available. That can leave you in a pinch, especially during months in which refrigerated demand surges to accommodate produce shipping.
It's crucial to work with a valued logistics partner with a nationwide carrier network for both dry and refrigerated shipping. Seek a 3PL that can help you navigate the ebbs and flows.
The experts at Zipline Logistics can work with you to build scalable transportation solutions for your food and beverage orders.
NEED TO SHIP YOUR FOOD AND BEVERAGE PRODUCT? REACH OUT TODAY
The post How These 2020 Food and Beverage Trends Will Affect Your Freight appeared first on Zipline Logistics.