Columbus, Ohio — Zipline Logistics' HR Director, Emily Magill, was honored with the 2018 HR Executive of the Year Award and 2018 HR Innovation Award as part of Columbus CEO Magazine's annual HR Excellence program.
Magill joined Zipline Logistics as its first HR professional, the same year the company celebrated its 10-year anniversary. Joining an established yet laid-back culture meant that Emily needed to first build trust with personnel. She successfully showed management and employees that HR was a part of the team and not there to be an authoritarian.
"Emily met our employee needs while maintaining our relaxed culture," explains Walter Lynch, Zipline's CEO. "We operated without an HR department for a long time, so there was hesitancy that too much structure could hurt employee engagement. Emily surpassed our expectations and made a real difference for everyone at Zipline."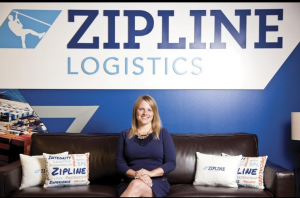 HR Executive of the Year recognizes an individual who has demonstrated significant achievements that advance both a person's organization and the HR profession. In just one year, Magill launched multiple efforts at Zipline, improving everything from employee engagement to wellness programming. She overhauled the company's orientation and training framework, expanded its employee recognition programs, grew one-on-one leadership coaching efforts, established monthly happy hours, introduced a rotation of weekly food trucks at the office, hosted quarterly health programming, and launched multiple fitness options.
"What I think is important and a little different, is that human resources can be what the company needs it to be," explained Magill. "A traditional human resources department would have been harmful to Zipline's culture, so I worked with leadership to build programs that were unique."
Magill's largest impact, and the reason she won the HR Innovation award, was her introduction of a new performance management structure and technology. Magill leveraged Trello, a free platform typically used for task tracking, to clarify employee responsibilities and career progression pathways. She innovated how Trello could be leveraged as an HR tool and appealed to millennial audiences. The platform offered flexibility while providing opportunities for customization, collaboration, and frequent feedback.

"With a clear process, management is now more prepared for difficult conversations and for leading their employees through improvement exercises," adds Magill. "It's been exciting to see how different teams, such as sales, operations, and IT, have all levered Trello to provide more structure to how we grow specific arms of the business."
Read more about the HR Excellence program and the 2018 award winners at www.columbusceo.com.
About Zipline Logistics
Zipline Logistics, founded in 2007, is a digitally-enabled transportation partner that specializes exclusively in serving the food, beverage, and consumer product sectors. Managing tens of thousands of shipments annually, Zipline Logistics proudly serves clients ranging from some of the largest retail organizations in the world to the brightest up-and-coming food and beverage brands in North America.
The 3PL's capacity procurement team utilizes a proprietary qualification process to identify and contract the highest quality providers to operate within its network. This selectively procured carrier group is leveraged, along with Zipline Logistics' proprietary data analytics software, a retail-trained operations staff, and service-first organizational culture, to deliver the absolute best client experience in transportation.
For more information or to request a quote call 888.469.4754 or contact us here.