Sam's Club stepped up its on-time, in-full (OTIF) expectations for its suppliers and, in some instances, exceeded standards set by its parent company, Walmart.
Brands delivering to the big box store must adhere to OTIF standards to remain in good standing with the retailer.
While the company has yet to fine suppliers for missing delivery requirements, it could do so soon.
It currently just uses on-time metrics to grade suppliers and the store's retail buyers can base purchasing decisions on a brand's delivery performance.
Tougher OTIF Standards at Sam's Club
Sam's Club launched its OTIF program in the spring of 2018, following the logistics compliance precedent set by Walmart. The store has gradually increased standards each year since its unveiling two years ago.
It now expects shippers to meet an on-time threshold of 90 percent while requiring 100 percent of orders to be in-full. These high standards are in line with those at Walmart.
The store has pushed the effort to increase the strictness of its OTIF program in tandem with the move to a new web application for delivery appointments. The software called Appointment Scheduler 2.0 was previously only used by Walmart.
Download: Using Data to Drive OTIF and Retail Compliance Success

Download the free white paper to learn more about how data can be used to reduce logistics spend while improving supply chain performance. It is critical to leverage transportation analytics to get the most out of your operation. In this ebook, you will learn how data can be used to identify efficiencies and make logistics improvements.
"It's a much different interface," says Zipline Logistics Senior Operations Director Katie McGovern. "It will take some getting used to for anyone who hasn't worked with Walmart previously."
One large Sam's Club distribution center (DC) is already using the new system. However, the remainder of the retailer's DCs will make the switch by the end of March.
Vendors scheduling their own Sam's Club deliveries could need training to adjust to the new application. Scheduling delivery appointments and doing so correctly is critical for success when working with any retailer.
While previously not as prevalent a part of doing business with Sam's, appointments, as they relate to OTIF, are crucial for succeeding with the retailer.
What Does OTIF Mean at Sam's Club?
OTIF is the vendor delivery scoring system first instituted by Walmart. Sam's Club has since adopted it to measure whether a supplier is meeting logistics expectations.
As retailers continue to battle e-commerce solutions providers for market share, organizations have dialed up OTIF programs. Many major retailers have created compliance standards and vendor scorecards to monitor supplier performance.
Most retailers have a compliance and scorecard system in place to grade the performance of vendors.
Typically, they evaluate standard metrics like on-time delivery, inventory management, missed shipments, lead time, and costs.
How is OTIF Calculated at Sam's Club?
The formula used to calculate OTIF at Sam's Club is straightforward. OTIF% = 100 x Total Units Received in Delivery Window/ Total Units Ordered.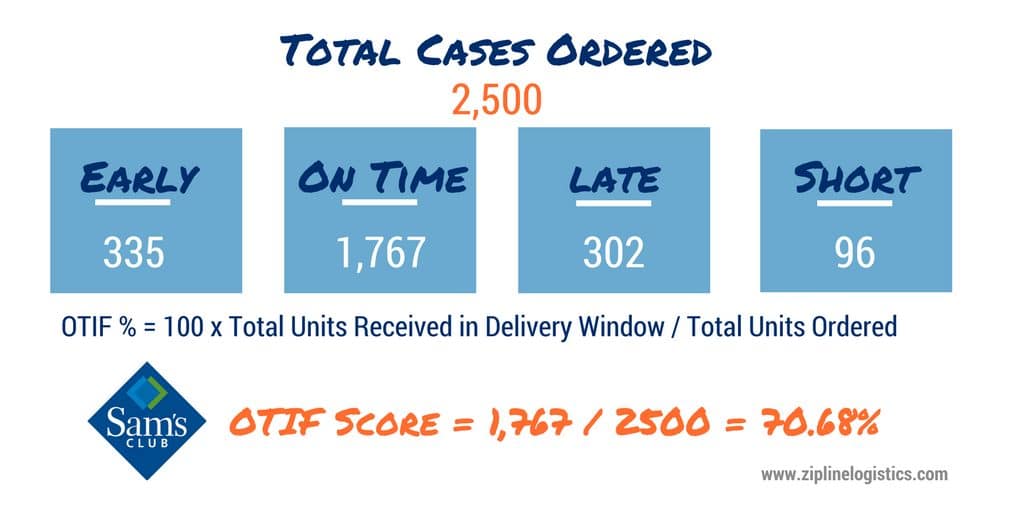 The OTIF program also tracks several other related metrics like in-full percentage, early percentage, late percentage, and unfilled percentage.
Why Does OTIF Matter?
Even though Sam's Club has not yet fined suppliers for not meeting OTIF standards, the company expects its vendors to deliver on-time. The retailer wants your product on-hand and its shelves full.
According to an article published in Retail Dive, "Today's shoppers experience out-of-stocks during one of three store visits, costing retailers nearly $1 trillion in annual sales as consumers shift to online alternatives."
To combat this lost revenue, retailers have created vendor compliance programs to help prevent replacement transactions.
Missing appointments can jeopardize your relationships. Those that cannot stay in excellent logistics standing risk losing shelf space.
In a 2019 survey of retail buyers, Zipline Logistics found that 100% of respondents said that a vendor's ability to deliver product on-time impacted their willingness to work with them.
Order Cadence at Sam's Club Distribution Centers
A new component of mastering delivery to Sam's Club is learning to succeed with the retailer's order cadence policies.
Distribution center employees place recurring orders on specific days of the week. This reality makes it challenging for some brands to manage inventory and keep up with expectations.
To meet standards and hit goals, vendors should audit their shipping schedules to align their production and logistics operations. Doing so will allow your organization to hit OTIF standards and ensure that orders sent to Sam's are profitable.
You can complete this process by analyzing past logistics data and performance. Transportation data analysis and effective planning is one of many areas that a logistics solutions provider can assist your organization.
Meeting Sam's Club OTIF Standards
If you do not already comply with retail standards, here are essential things you can do to get your brand on the right track.
Understand that appointment scheduling is more critical than ever. When you schedule an appointment, build in lead time for your partners and provide as much information as possible. Doing so can keep your order from being rejected, even in the face of delays or transportation issues.
Ensure all your carriers and ship locations are aware of OTIF processes.
Work with specialized logistics providers. Retailers have preferred carriers for each of their receiving locations. Know which carrier to use for each of your deliveries.
Work with your production teams to set expectations, and relay consequences of missed absolute ship dates.
If you reschedule a delivery, ensure the new date or time does not fall outside your MABD. Distribution centers can approve non-compliant appointments.
Have set ship dates and less variance in transportation. Work to schedule contracted carriers and set transit times.
Identify consolidation opportunities. You can create efficiency through an effective consolidation program by cutting transit time. Shorter hauls can lead to better OTIF performance.
Evaluate current consolidation efforts. Inversely, ineffective consolidation programs can create issues. You may need to shuffle consolidation programs to separate your Sam's Club orders from other freight.
Partner with Zipline Logistics for Retail Compliance Success
Zipline Logistics specializes in retail deliveries and has extensive industry expertise.
We have a strong track record for delivering to Sam's Club locations throughout the US. Our retail logistics experts work with brands to ensure their operation is ready to meet compliance challenges.
Through our approach to data management and insight, we can help your brand exceed OTIF expectations and stand out from your competition.
Reach out today to see how we can help.
The post Sam's Club Updates Appointment Scheduler and OTIF Standards appeared first on Zipline Logistics.