As technology advances and continues its march into every facet of our professional and personal lives, we see more and more opportunities to collect "big data" and harness the power behind the numbers.
To expand on how trucking data is integral in shaping and driving decisions at Zipline Logistics, our Director of Business Innovation, Dustin Verdin, spoke about big data at last month's Warehousing Education and Research Council (WERC) Annual Conference. He elaborated on how much logistics data goes into the choices we make every day and how influential the insights provided can be.
For those unable to attend the 2019 WERC Annual Conference, we're recapping the main ideas of Dustin's session in this post.
At Zipline Logistics, we take trucking data seriously and have integrated it into our operational decision-making processes to give our customers the best service possible. Our logistics experts process and interpret data every day to make the correct choices as to how to move our customers' freight.
One of Zipline's operational guiding principles is finding our customers the right carrier for the right job, not just the cheapest truck available. Though not immediately apparent, simply not opting for the cheapest carrier can ultimately save our customers a lot of money and prevent a lot of headaches.
Making the wrong carrier decisions can add up to delays, fines, additional unforeseen fees, and ultimately damaged relationships with retailers, which can be the costliest of penalties for suppliers.
By collecting and interpreting the most critical shipment and trucking data, we can make decisions that work best for our customers.
There are a lot of factors that play a part in our freight decisions, but in order to get there, we must first answer the basic question — what is big data?
The Basics of Big Data
As the research firm Gartner defines big data, it is "high-volume, –velocity and –variety information assets
that demand cost-effective, innovative forms of information processing for enhanced insight and decision making."
In the past, much of what we now think of essential metrics for decision making were not practical evaluation tools. But through more advanced automation and continually improving algorithms, we can collect and interpret a lot of the numbers that were once unwieldy.
Since Gartner initially spelled out their "three vs" of big data, the concept has evolved leading experts in the field to add a few more vs. This brings our list to 11 characteristics that we look for to decide if numbers should be used in our decision-making process: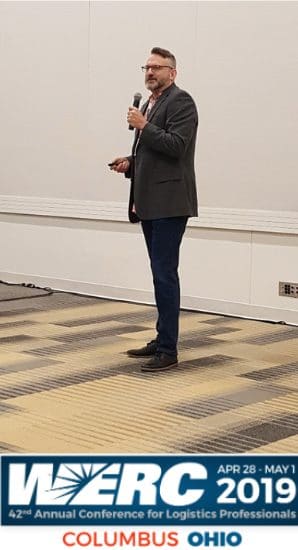 Volume — The amount of data
Velocity — The speed at which data is created/consumed
Variety — The multitude of types and formats
Variability — Changes, inconsistencies, anomalies in datasets
Veracity — Reliability of the source.
Validity — Is it accurate and correct for the use?
Vulnerability — Is the data secure?
Volatility — Is the data fresh and relevant?
Visualization — Can the data be presented in a meaningful manner
Value — What is the benefit or ROI?
Virtue — We can use this data, but should we?
These checkpoints give us a good idea as to the value and whether the metrics we are collecting can be used to broker the best outcome for our customers' freight.
Utilizing Trucking Data for Customer-Minded Decision Making
Despite being a relatively new term tossed around the logistics world, big data has been a part of what we do for awhile now. For years, we have collected data as it relates to route optimization, economics, shipment details, transit times,  and plenty of other logistics information.
So, you might be thinking how does any of this have to do with you, the shipper? In short, a lot.
We're using machine learning and AI to not only identify the right truck for customers, but to make those important decisions faster. Rather than contacting multiple carriers in our network to check availability, predictive technology enables us to identify who the best options are and who is most likely to accept the load based on previous behaviors and scheduling.
Deploying AI and machine solutions helps not only our business but our customers. Zipline can cut down on time spent securing the proper capacity, and as a result, can offer better solutions and lower prices to our customers.
We're aggregating 50+ data points per shipment to see a clearer picture of what's needed for success. We divide these variables into six distinct categories that guide us toward making a correct freight decision.
The Right Carrier
To make the most informed decisions about which carrier we want hauling our customers' freight we analyze a carrier's:
Modes provided
Lanes run
On-time percentage
Safety history
Etc.
The Right Driver
Making good freight decisions doesn't end with just choosing the right carrier. The driver that will be hauling the freight must also meet our data-driven criteria. We study driver performance metrics to see:
A driver's available service hours
Their willingness to use/share electronic location tracking
The driver's call-in response frequency/quality
Is the driver proactive and accurate?
Etc.
The Right Route
Correctly choosing the route needed to haul your product also gets a micro-level evaluation from our logistics experts. It is important that we use the information available to us to make the correct decision about our customers freight. We study:
Available public/private parking locations
Distance from pickup/delivery location
Available rescue/re-positioning resources
Freight consolidation opportunities
Etc.
These data points give us a clear picture as to the optimal route for any given haul. Following the passage of the ELD Mandate, available parking has become an increasingly crucial metric. In a 2018 survey conducted by Zipline, parking was the number two concern for drivers behind working hours.
We want to our trucking partners using the right route in order to ensure a load's success.
The Right Day and Time
Another large factor in making freight decisions is studying the intangible factors of a delivery that often exist outside a carrier's control. To determine if it's the right day and time for a successful delivery we look at:
Shipper and receiver production schedules or MABD needs
Expected line haul and fuel charges
Weather, traffic for upcoming or real-time concerns
Seasonal or regional capacity changes
Etc.
The Right Understanding of All Facilities
Next, we examine the destination of load. Whether it's going to a warehouse or directly to a retailer, we want to know about:
Dwell and detention history at the facility
OTIF requirements/ramifications
Appointment requirements and grace periods
Facility size/capacity/dock requirements
Etc.
The Right Communication
Lastly, we want to know how each party involved in a haul communicates. Are we going to get proactive alerts about?
Shipper production delays
Consignee storage capacity concerns/dock ops status
Driver HOS concerns
Consistent call-ins and track and trace updates
Etc.
The Right Value for the Job
All these trucking data categories function as pieces of the larger logistics puzzle. When put together, they give us a clear picture that adds up to a correct freight decision.
We understand and routinely incorporate the data needed to make the best decision about your load. Knowing the carrier, driver, route, destination facility, and timing provides us with a winning formula.
Zipline picks the best carrier option available to meet the budget, time-frame, and facility requirements for our customers' freight. This gives everyone involved the best chance for a successful delivery, which is a common goal we share with our customers and ultimately is what separates us from other freight brokers.
Interested in seeing the difference data makes at Zipline?