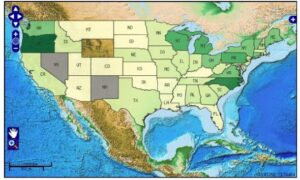 Every year . . .  
73 million Christmas trees

 are planted all over the United States.

25-30 million trees are delivered across the nation to prepare for the holiday season.

 
As the holidays approach and families begin gathering, flatbeds piled high with Christmas Trees are en route to a marketplace near you. 
Christmas Tree Production
The bulk of Christmas trees are harvested in the Pacific Northwest, East North Central Midwest, and Northeast regions of the United States.
The highest producing states are Oregon and North Carolina, each harvesting millions of trees every year.  
Cut Christmas Trees: Area Harvested, Measured in Trees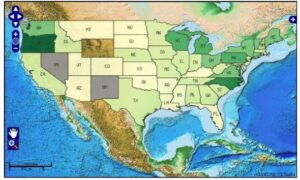 Key: Lightest Green = Least trees harvested, Darkest Green = Most Trees Harvested, Gray = Data Unavailable
Chart source: DAT 
Christmas Tree Impact on Capacity & Rates
Thanksgiving weekend is usually when demand begins ramping up, so marketplaces begin stocking up on trees well in advance. 
From mid-October to mid-December, there's a huge uptick in outbound shipments from those high producing areas. During this time, trucking capacity becomes strained.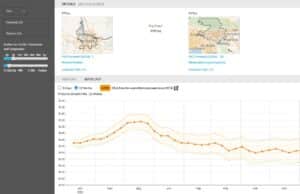 Graph source: DAT 
This is when we normally see outbound rates in the Pacific Northwest (PNW) go up and inbound rates trend cheaper. As you can see in the chart above, outbound Oregon rates begin rising in mid-October and peak in mid-December. This trend is consistent with other outbound PNW destinations during this timeframe. 
Any shipments leaving high-producing Christmas tree states should prepare for strained capacity and a steady increase in outbound freight rates from mid-October to mid-December, as previously mentioned. 
In general, shippers nationwide should prepare similarly, as the supply chain will also facing impacts from holiday peak shipping and labor force shortages (from holiday time off) during this time.  
This, combined with winter weather, means shippers can also expect slower transit times and delays. 
Get Ahead of Christmas Tree Capacity Strains
Working with a third-party logistics provider is always great move, but especially so as we head into the holidays.  
At Zipline Logistics, we've navigated our fair share of strained capacity and winter storms. Bringing both our retail and freight market expertise, we act as an extension of your network and can put out fires before they even arise. 
This means every shipment comes with proactive communication, creative solutions, and 24/7 availability to have your questions answered or get the help you need. 
No need to take on holiday shipping by yourself this year. 
Let Us Make Your Holiday Brighter
The post Christmas Tree Delivery Impact on Freight Capacity & Rates appeared first on Zipline Logistics.