Freight rates rose sharply in 2020 and continue to remain elevated this year. Since last May, the freight market has grown almost uninterruptedly.
While this ascent has benefitted carriers, CPG shippers have paid the price in rising freight rates that came on the heels of many continuous months of favorable pricing.
There are many different reasons behind these climbing freight rates, so we have decided to analyze each component driving up prices.
This week, we will focus on the housing market and its effects on freight volume. When combined with massive retail volume and produce season, this is causing rates to remain elevated.
Like other sectors of the economy, when the housing market is on an upswing, it can create capacity challenges for shippers by adding freight volume in building materials and complementary goods.
The housing market is currently booming, and its impact can affect shippers even if they operate in other markets.
Tight Housing Market Adds Freight Volume 
Similarly to the consumer goods sector, the housing market experienced a robust final two quarters of 2020. Despite dips in the spring and early summer, the housing market posted massive existing home sales during the second half of the year.
According to the below graph from the National Association of Realtors, from July of 2020 until March of 2021, the market has posted near-continuous double-digit year-over-year growth figures.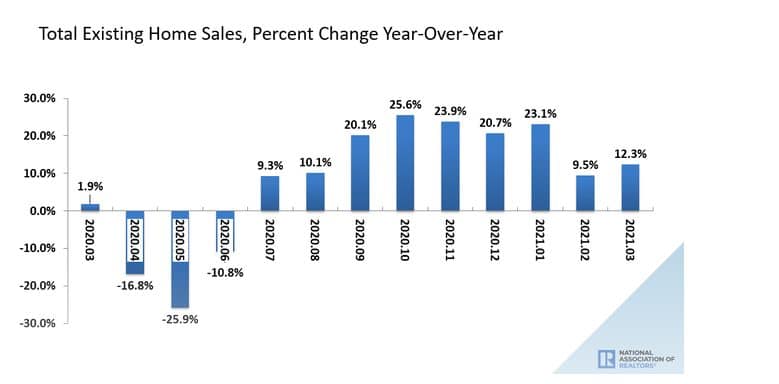 And as we emerge from the constraints of the pandemic, experts are calling for more of the same in 2021.
"We expect (home) sales to grow 7 percent and prices to rise another 5.7 percent on top of 2020's already high levels," said chief realtor.com economist Danielle Halle said in an interview with Forbes.
"While we expect mortgage rates to tick up gradually, sales and price growth will be propelled by still strong demand, a recovering economy, and still low mortgage rates."
These home sales are buoyed by newfound demand from millennials, who had previously largely been seen as renters. According to an article published by Business Insider, "the millennial homeownership rate has climbed to 47.9% from 40% just three years ago."
But that increased demand has pushed the market into a substantial shortage. According to a report from Jefferies Financial Group, the US is short 2.5 million homes compared to demand.
That shortage is increasing new home construction, albeit still at a much slower than needed clip, adding more building material volume to the freight market and eating up capacity in the process.
This trend is especially consequential for the rail shipping capacity.
"Home building is the biggest driver of lumber and wood products carloads. Given the home affordability issues in many places, lack of adequate inventory, and people looking for more space with single family homes who aren't going to go back to offices, lumber and forest products could be a positive for rail volumes for some time," said Mike Baudendistel, FreightWaves market expert for rail and intermodal.
According to FreightWaves, new single-family homes under construction have risen by 51% over the past five years, and total construction spending is up 77%.
Those increases equate to more freight in the marketplace, and, regardless of its location or mode of transport, it takes available capacity that could otherwise be used to transport CPG freight, which drives up rates.
This homebuying trend, in part, is driving growth in the industrial production sector, and analysts from Deutsche Bank predict a year-over-year growth rate of 7.8% in quarters two through four. It is not likely that we see these trends reverse any time soon.
Homeownership Drives Demand and Increases Freight Rates
Along with adding construction volume to the freight, new homeownership spurs demand in several other sectors, causing similar issues.
In an interview with CNBC, Whirlpool CEO Mark Bitzer states that demand for home goods and appliances is increasing, and the trend is likely to continue. His company reported a 24% increase in sales when compared to a year ago and has forecasted 13% growth again this year.
Bitzer said sector sales will be furthered by the increased demand in the housing market, and this trend will continue in the coming years. And direct payments from the government are helping to drive consumer spending.
Those direct payments are not just driving appliances and strictly home good sales. They are also spilling over to other consumer goods areas. Retail sales, including food services, increased 9.8% sequentially in March, according to Thursday Census Bureau data. These figures represent a 27.7% increase in sales for the month and 14.3% for the first quarter in year-over-year comparisons.
That added demand is also adding volume, and when combined with produce season, it is also shrinking available capacity. This phenomenon drives up market rates across the board.
Work with a Dedicated Logistics Partner
Shippers will potentially see some relief on the back half of the year as truck manufacturers increase output to give carriers additional capacity to handle the heightened volume. Moreover, demand for truck driving school is hitting a fever pitch and will add more drivers to the labor pool, which currently sits about 50,000 short of demand.
Until then, it will benefit shippers to work with a dedicated logistics partner to ensure conditions do not jeopardize profitability. A true freight partner can help your organization accurately forecast costs and find more favorable pricing through consolidation or mode optimization practices.
To see the difference a true logistics partner can make, reach out to Zipline Logistics today.
The post Why Are My Freight Rates Increasing? The Housing Market Adds Volume appeared first on Zipline Logistics.